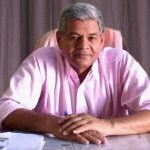 The College was established on 2008 by MDS College of Educational, Kosli. The college is situated in a pollution free rural environment. The college is recognized by NCTE, NRC Jaipur, Govt. of Haryana and I.G.University Meerpur (Rewari) Our broader & efficient career oriented program bachelor of Education (B.ED.) is fast track program, without sacrificing the aim of education which is the student demand. MDS college of education, Known as reputed educational institution in rural area. It is run by Sh M.D Education Society, Kosil from 8th August 2008 with the objectives to promote education in this area. There is no doubt that MDS College of Education is the best choice for you.
Keeping in view the growing need for educational opportunities for children to develop them into responsible citizens as a national resource and their exposure to contemporary circumstances, Sh. M.D. Education Society was established under the Haryana Registration and Regulaton of Societies Act, 2012 (Haryana Act No. 1 of 2012) 

The basic objective of Society is to provide educational opportunities to the masses, who are more creative and innovative in their thinking, skilled in using and applying new information and communication technologies to their best advantage.
The society with its concerted efforts has been able to establish itself remarkably in enhancing the educational, managerial and cultural attributes of an individual.